You may have used the National Rail website to check departures. I've use the same source to bring Sydenham's three stations together plus linking them to local bus routes.
As ever the project is to create shareable local data for local people so if you weant to embed them (unbranded) into your own websites etc just follow the share/embed links.
https://sydenham.info/transport
Example departure board (click through to the live version):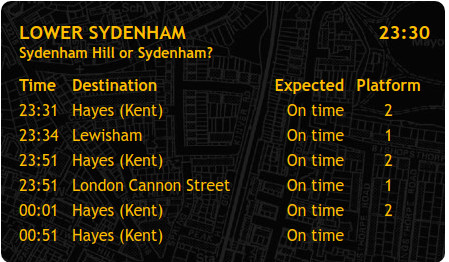 Please PM reports on errors and omissions.
BTW if you are still using Windows Internet Explorer you will need to swop to a more modern browser (Edge, Chrome, Firefox, Safari, Vivaldi ...)
Stuart